Regular price
Sale price
$10.00 USD
Unit price
per
Sale
Sold out
Indulge in the luxurious essence of Limone Lavender Italian-made soap, crafted to perfection for a refreshing citrus burst intertwined with the soothing fragrance of lavender, leaving your skin soothed and revitalized.
Share
View full details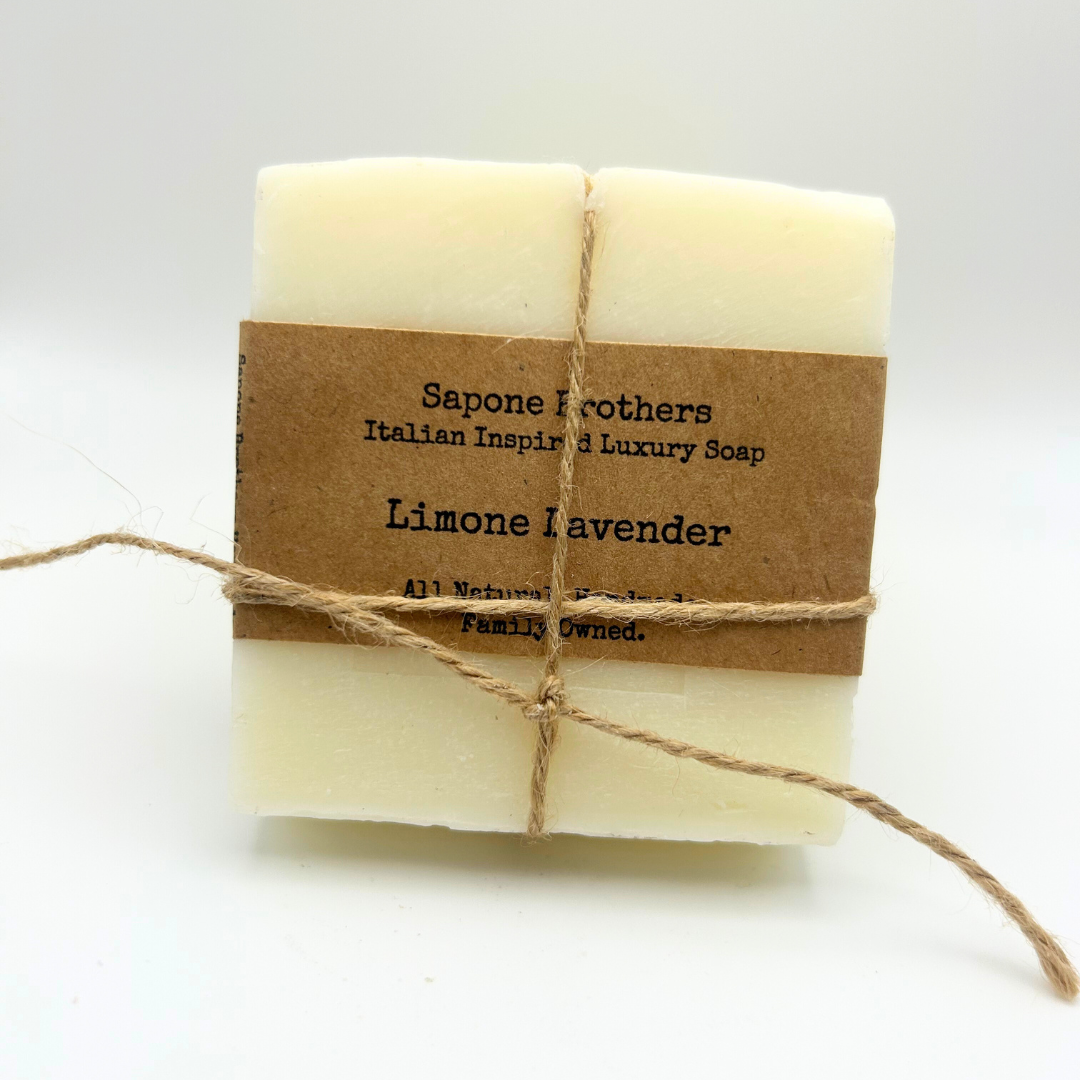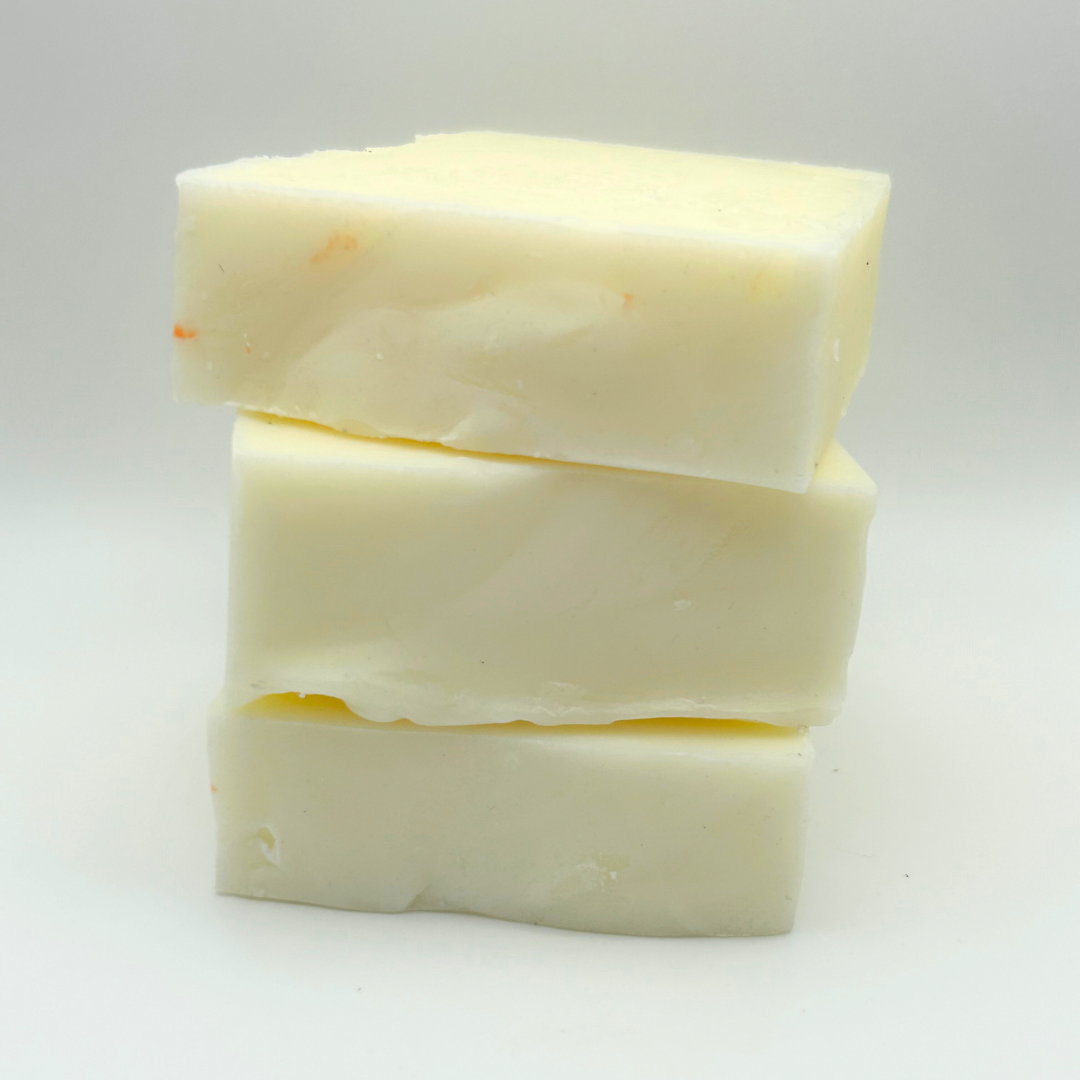 Collapsible content
Ingredients

100% Natural Tallow - Tallow-based soap provides deep nourishment, balanced pH levels, and excellent moisturizing properties, making it an ideal choice for sensitive skin and offering a longer-lasting, eco-friendly option.

Distilled Water - Distilled water in soap formulation ensures purity and consistency, reducing impurities that could affect the soap's texture, scent, and overall quality, resulting in a smoother, more reliable product.

100% Pure Essential Oils

Limone- A citrusy burst, infusing your skincare routine with a refreshing and uplifting aroma, creating a vibrant and invigorating bathing experience.
Lavender- A calming and soothing aroma, offering relaxation and potential skincare benefits, making it a timeless choice for a serene bathing experience.
Shipping

We offer Free Shipping on orders over $80!
Usage

Refresh yourself daily with our with our all-natural, handmade Italian luxury soap, perfect for all skin types.
All Natural

All-natural soap, free from synthetic additives, is gentle on the skin and helps retain moisture. Offering a purer, more nourishing cleansing experience for healthier, radiant skin.

Long Lasting

Unveil the epitome of lasting luxury with our meticulously crafted soap, enriched with a nourishing tallow base, ensuring an extended indulgent experience that remains as opulent as the first use.

Small Batches

Our hands-on approach offer superior quality and attention to detail. Crafted with precision, ensuring a more enriching bathing experience.

Family Owned

Each soap is handcrafted with love, reflecting our commitment to quality, purity, and your well-being. From our family to yours, we invite you to indulge in the finest handcrafted soaps crafted with love.
Benefits Of Tallow Based Soap
Rich in Nutrients

Tallow is packed with essential fatty acids and vitamins, providing deep nourishment to the skin.
Excellent Moisturizing Properties

allow-based soaps create a creamy lather that helps retain moisture, leaving the skin soft and hydrated.
Balanced pH Level

Tallow naturally maintains a pH level similar to that of human skin, reducing the risk of irritation and maintaining skin's natural balance.
Long-lasting and Stable

allow-based soaps tend to be harder and last longer than those made with some other fats or oils, providing a more economical option.
Eco-Friendly and Sustainable

When sourced responsibly, tallow is a renewable resource, making it an environmentally conscious choice.
Suitable for Sensitive Skin

Its gentle nature and similarity to the skin's natural oils make tallow-based soap a good option for those with sensitive or easily irritated skin.
Incomparable Creamy Lather

Tallow contributes to a luxurious, creamy lather that enhances the overall bathing experience.
Italian Inspired
Our soaps offer a luxurious bathing experience, combining heritage and craftsmanship.
We craft our soap with traditional techniques, that provide a sensory journey with scents reminiscent of Italy's lush landscapes.